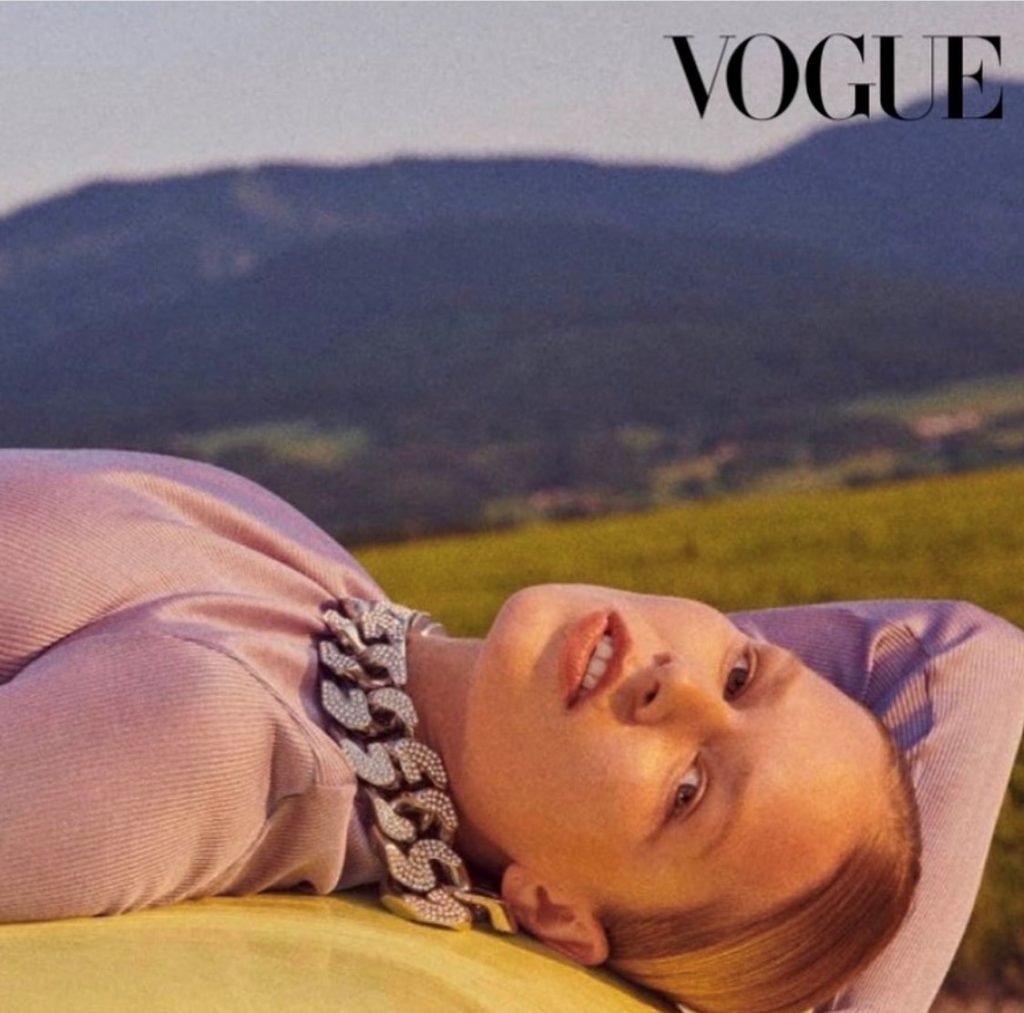 What was your vision whilst making Anna Ewers look for German VOGUE's September cover?
My vision for Anna's makeup was a natural, modern, fresh, striking, honest and sustainable makeup look. We started working at 3.15 at night to catch the sunrise. Therefor the makeup needed to be quick but also reliable and easy to fix up after several hours with a tight schedule.

The theme for the Vogue September cover in all countries was "New Beginnings ". I hope this title will inspire to a new beginning, focusing on sustainability and consciousness within the fashion industry.

Anna is an amazing model. She can be super feminine and at the same time she can also be a real tomboy. She is intelligent, strong and very kind. I wanted her to look like herself and at the same time capture the light and radiance.
What does beauty mean to you and where do you find your inspiration?
Real beauty for me is goodwill – people with warmth, kind thoughts, and positive acts. Beauty is when we take care of ourselves and each other. Beauty is sharing and helping other people. Beauty is strength, vulnerability, and trust. I find inspiration in art, movies, books, music, my friends, and other people you meet and see every day.
As an experienced MUA, what is your biggest makeup hack?
The base is everything. Invest in a healthy routine both with the foods you eat and with your skincare – then you will need less makeup. For me, the saying "less is more" will always be the right answer. Even if you want a bold eyeliner or a bright red lip, natural-looking skin will always look the best.
How is your relationship with organic beauty products?
As much as I can I would like to work with organic products, always wanting to offer my costumers the best. Before it was hard to find good organic base products, that also look good enough in pictures, videos, all types of light and both in warm and cold climates. In that way Estelle & Thild really stand out from other brands. Good job!
A lot of the time it is a bit unclear how organic a product is. It can be enough that a very small percentage of the product is organic, for it to be called an "organic" product. People need to do their research! On Estelle & Thild's website you can read about the products certifications in Ecocert. It is a good way to educate curious costumers and at the same time making them more aware.

I always swap out my old favorite products to new organic, vegan options, when I find products that are good enough for my standards. I also care a lot about our future, the environment, animals, and nature – and since I recently became a mother – also have my daughter's future. I want to be able to work with a good conscience. Sustainable and cruelty-free.
Last but not least, what is your favorite product from Estelle & Thild, and what is your favorite thing about it?
Liquid Illuminator is an amazing product – with a radiance and a blur that minimize pores and fine lines. It comes in 3 different shades and is so easy to use "on the go" – just apply it with your fingertips on newly cleansed skin. Can also be used as a flawless base in your nighttime makeup routine for an extra boost of radiance and color. A magical glow that looks like it comes from within. Top-notch!